Kumarakom Heritage Ayur Spa
Ayurvedic treatment is a holistic approach to health and wellness that originates from ancient Indian traditions. It emphasizes the balance of the mind, body, and spirit to achieve optimal well-being. Utilizing natural remedies, herbal medicines, dietary adjustments, and lifestyle modifications, Ayurvedic practitioners aim to restore harmony within the body's systems. Individualized treatment plans are tailored based on one's unique constitution (dosha) and imbalances. With its roots in centuries-old wisdom, Ayurvedic treatment continues to attract those seeking a comprehensive and personalized approach to healing and maintaining good health.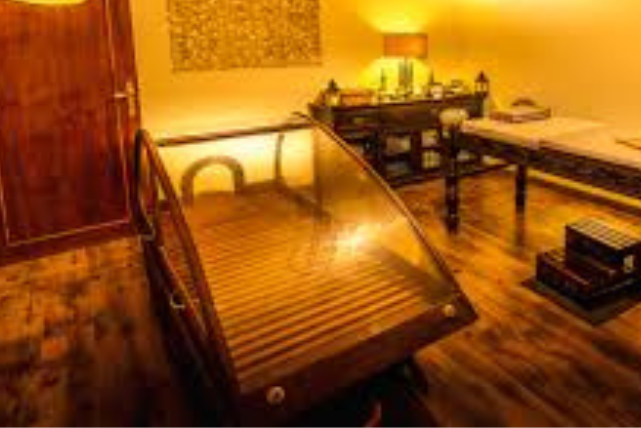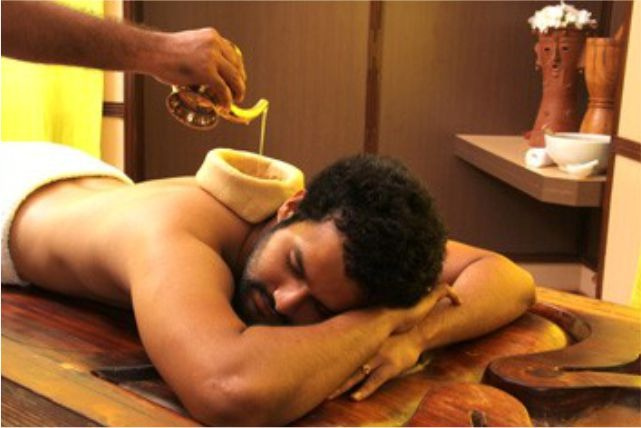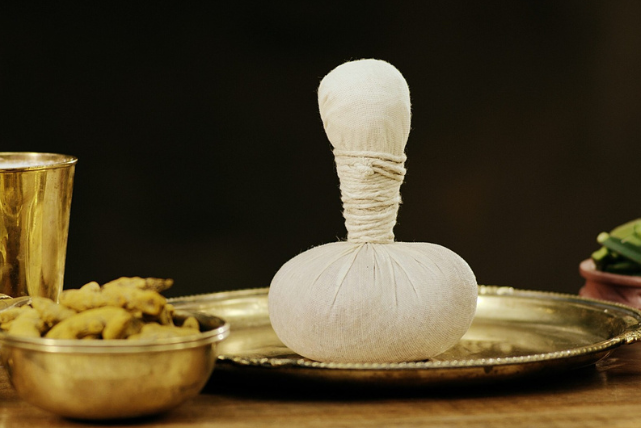 The best combination treatment, it includes whole body ayurvedic hot oil massage with a traditional ritual followed by a head massage, full body massage, medicated herbal steam and ending with a traditional bathing ritual for rejuvenation
A continuous stream of medicated warm oil/ Herbal liquid is poured onto the forehead for 40 to 50 minutes. This procedure often induces a mental state similar to a trance, which creates profound relaxation of the mind and body. It is deeply relaxing and revitalises the central nervous system.
It is an avurvedic treatment where dry powders of medicinal herbs are made into poultice. These poultices are dipped in heated medicinal oils and massage on the body. This treatment helps to relive aches and pains in the body. Reduce joint stiffness and muscle pain.
Pizhichil is a special form of Ayurvedic treatments that combines rich oil massage along with a warm oil cotton swab squeeze. This therapy is known as the "King's Treatment" and is a highly rejuvenating treatment that enhances muscular tone and retunes the entire nervous system.
Application of herbal oil & herbal leaf potali in prushta marma (vital part of low back) to improve low back strength.
This unique package comprises traditional whole body massage with 'Shirodhara' dripping of Luke warm fluid-on the forehead in rhythmic manner accompanied by a gentle head massage.
(AYURVEDIC REJUVENATION PROGRAM) Abhyangam + Pindasweda + Shirodhara
This package starts with foot ritual followed by full body medicated oil massage and then accompanied by herbal massage with roasted medicated herbs bag massage and ends with Shiro-dhara. Gives Complete rejuvenation of mind and body, removes toxins through perspiration, improves blood circulation, reduces joint pains, back ache and gives an experience of healing touch of Ayurveda.
This package includes with a full body scrubbing with herbal scrubbers which peel out the dead skin, and the accompanied body massage and an Herbal face pack. It helps to improves blood circulation, complexion, and special herbal pack tones the skin and reduces the ageing process.
Aromatherapy indulge in this authentic massage style that has been influenced by stalwarts from homeopathic healing tradition and uplifting combination of Aroma oils selected from carefully preserved global bio reserves are blended with cold pressed antioxidant rich base oils to provide a gentle relaxing massage which works on the sensors as much as it works on the skin and nerve endings.
Deep tissue massage is a type of massage therapy that focuses on realigning deeper layers of muscles and connective tissue. It is especially helpful for chronic aches and pains and contracted areas such as stiff neck and upper back, low back pain, leg muscle tightness, and sore shoulders.
Traditionally known in India as "champi', this is the source of all modern scalp therapies. It is an invigorating experience where firm and fast strokes are combined with stimulation of trigger points on the head and feet to improve blood flow naresh the scalp and food sources and induce a deep sense of calm.
One of the fastest ways's to relieve your fatigue. It works on the foot reflex point which helps to induce relaxation, stimulate all the internal organs and glands.
Re-invigorate the senses with this exfoliation ritual. This therapy captures the mystery of the ancient Arabic coffee where cooling lentil powder is used to temper the heat of handpicked finely ground aromatic coffee. You will instantly feel the increased circulation and the smoothness of the skin.
DETOXIFYING AYURVEDIC BODY SCRUB
This traditional Ayurvedic detoxifying body scrub activates your boy's nature of healing mechanism, its work to improve the appearance of cellulite by reducing water retention & improving the elimination process.
A body wrap using organic sandalwood, that effective in soften, soothe and repairer mature or sun-damaged skin.
Protein rich Lentil mixture with coffee flavour is applied on the body after skin polishing that removes surface pollutants. Effective in firming and toning sluggish, sallow skin.
A pampering facial suitable for combination skin helps soften expression lines and gives you a feeling of relaxation.
Enjoy this unique facial, which will help to revitalises your skin and recuperate from daily stresses. The active ingredients of these facial combat fine lines, aging at the cellular level.
This intensive facial incorporate black cohosh, asparagus extracts, as well as vitamin C derivatives for a gentle smoothing and brightening effect. Ideal for tired looking skin and pigmentation marks.
This facial is perfect for that deep-cleaning experience to detoxify and rejuvenate your skin. A blend of Traditional Herbs improves the blood circulation in the face and helps to restore the natural glow and health of your face.
Creating healthy, clear, younger-looking skin.
KUMARAKOM HERITAGE RITUAL PACKAGES
We have thoughtfully created these packages keeping in mind the regular. Spa user's guest for the result which comes with liberal does of relaxation and pampering. Who said cannot be deeply satisfying? All you have to do our therapists who will take you on a fantastic journey of wellbeing relaxation.
This Package includes Sandalwood Body Polish and French Aroma Ritual.
This Package includes Indian Head Massage, Javanese Royal Body Work and Customised Facial.
This Package includes  Massage, Customized Body Wrap and Customized Facial.